Digital asset management systems are extremely powerful when it comes to functionality. In many cases, however, they are too complex, especially when it comes to searching for and accessing images.
Here are typical examples:
DAM Access is a modern, responsive HTML5 interface for searching and displaying assets. It simplifies access to assets in your DAM and puts an end to typical restrictions.
DAM Access offers you these advantages: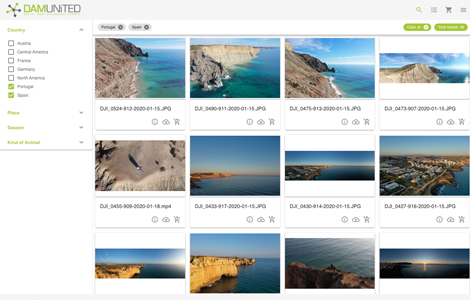 Our DAM Access is able to display assets and their organizational structures via a modern, responsive HTML5 interface. Authorized internal and external users can use any device to search for images from anywhere and download or request the results. The intuitive interface is immediately understandable for everyone.
The solution enables you to display different access interfaces for different authorized users. DAM Access serves as a gateway between the Internet and your protected DAM system. The clients can be configured so that the access is either public or protected e.g. by user name and password. Security is always fully guaranteed, even without VPN access. In addition, we adapt the access window with logo and color so that it corresponds to your CI.
As numerous as the possibilities are, so flexible is the licensing.
We offer you DAM United DAM Access as a classic purchase variant (plus maintenance contract), as a rental model (incl. maintenance) or as a solution hosted by us (incl. maintenance). For implementation and customizing, we distinguish between standard and individual variants/requests.
DAM Access is used by the following customers, among others: